How we made a start on our Email Marketing and you can too!
Read time: 3 minutes
Have you thought about your email marketing program lately? If not, then you should and we'll tell you why.
Email drives more conversions than any other marketing channel. You may have heard this before, but what does that really mean? Let's break it down - hold tight, we're going to talking some 'numbers'.
Say you have 2000 subscribers on your email list, and 2000 followers on Facebook. The average email open rate across all industries is 20% and click through is 3.5%. Now let's compare that to the average Facebook reach, which let's say is 2% (we know its likely even less since the 'zero' announcement) and the average click through rate for Facebook .07%.
Followers/Subscribers Reach Click through to website
Email 2000 400 80
Facebook 2000 40 3
Wowsers, the difference is significant - yes? Now think about this. The average order value (i.e.; how much they spend with you) of a customer who's ordered as a result of an email is three times that of a customer who's ordered via social media - three times!
The good news? If you haven't already made a start, you can start right now, as in, today and we are going to share with you what we did in less than a few hours when we sat down to nut out our email strategy.
Goal: We picked a goal and that goal was simple - to grow subscribers. It was way early days for us and we just wanted to make a start on collecting addresses. In fact, we started doing just that before we even commenced trading. So if you are thinking about starting a business our recommendation is as soon as you've created your web & social landing pages, make sure you include a 'subscribe' option and a reason for peeps to opt-in , maybe just a one liner like 'join our tribe to hear about our upcoming product launches'. Once you get more organised, you can start to think about what you might be able to offer to entice them a little more.
Who are you talking to?: We profiled our customer so that we could intimately understand them and what they were all about. (yes, you've heard this before we know). This establishes what's important to them and in turn, what content they're going to be interested in seeing from you. Customer profiling is the backbone of your content planning across all your marketing not just email. If you are yet to do this, please go ahead and sign up to our free Email Marketing Basics 5 Day Challenge. We are including a mini customer profile session on Day 3.
Us: We kick started our content by writing about ourselves, now this may sound a little narcissistic, but in our experience people really like to know the faces and lives of the humans behind the brand. Creating a connection with your audience helps them know, like and trust you which is the perfect primer for them to buy from you when the time is right. If you want to go ahead and do this for yourself you can include things like:-
- How your business name came about.
- Your related credentials and experience.
- What inspired you to go into business in the first place.
- The businesses mission and values.
- What you're passionate about, makes you laugh, your family life, fur baby etc.
Content/Topics: We didn't want to waste time scratching our heads about what to write about, so we spent twenty minutes brain storming our blog/newsletter content and we came up with four months worth (with our goal to send two per month).
Here's some inspiration to get your juices flowing:
- List pain points, problems, questions your audience might like answered.
- Behind the scenes of creating your product/service.
- Share a story or image of your product being used 'in action'.
- An interview or guest post from someone you think your ideal client would get value learning from.
- Go further to describe your product/service and offer a special or promotion.
- Share similar but not competing brands content that you think is share-worthy.
- New products/services in the making that they can get excited about.
Now, if you're yet to make a start or if it's been a while since you've worked on it, you might be standing on the outside thinking it's all really complicated, or you might feel overwhelmed by the technology side of things.
If so, we encourage you to let us support you by joining our free Email Marketing Basics 5 Day Challenge. The challenge runs from the 9th - 13th of April. Each day you will receive a short tutorial teaching you email marketing basics + a daily task for you to complete. We know you are time poor so we are keeping it short, sweet and to the point. We will also be supporting participants with access to a pop-up Facebook group to answer any of your questions along the way. Sign up here.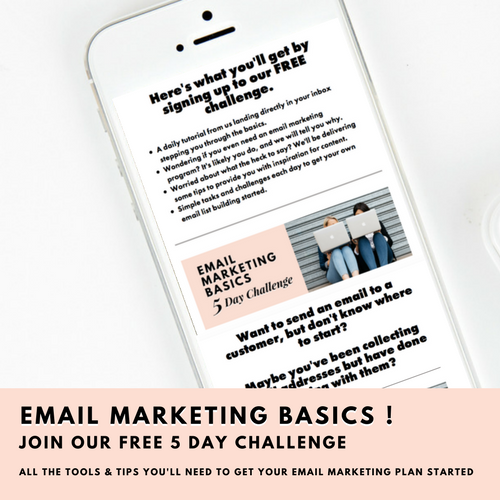 FREE 5 Day Challenge - Email Marketing Basics